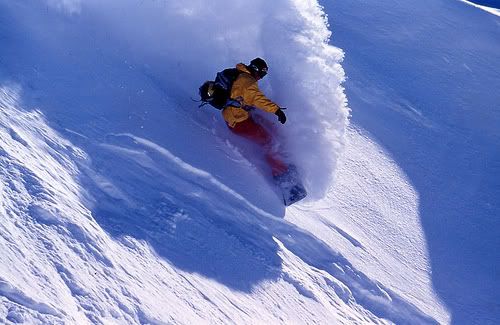 Welcome boarders... there is a chill in the air... and we all know what that means. The mountains are topped with loads of snow and it is time to get our Winter shred on. For those of us who prefer the street and the
water
... it is still a good season for us. The Winter swells are approaching and pounding our coasts and it's also time to thicken up our neoprene... or wax up our sticks. But regardless of your board preference... it's always time to rip. And for those of us who are super adventurous and have bank accounts that won't suffer... it could even be time to take that Indo or
Hawaii
trip... or maybe Whistler or Tahoe as well.
The Fall and Winter seasons are upon us fellow boardriders. Make sure to be safe and make sure you have the latest in proper gear so your performance levels can soar. Myself I am ecstatic. Living in
San Diego, California
.. I have alot of options. My boards hang in my room and I look at them and imagine myself ripping it on my bodyboard (Mike Stewart Science) , my surfboard (JS Flyboy) , skate (Element Fiberlight) , or snowboard (Burton)... and then the only thing left to do is just grab one and go for it... which I do as often as possible.
I know some of us can't get enough of our
boardsports
nor can we get enough time or energy to do all we want in our dream sports. I myself am just thankful I have grown up in the era that I have... because I have had the privilege of watching all of these sports evolve. The styles, the tricks, the tools.... all have evolved to a level I never even thought possible when I was a kid.. riding my skinny Rocket Skateboard in cut off OP cord shorts... barefoot... with my super loose lazer trucks and Kryptonics wheels.
As I watch these sports evolve I just can't help but be amazed at the
evolution
of humanity. We fly like birds... soaring like eagles... and carving arcs of electric motion which spray out in waves of fury. Riding mountains of snow and water and
concrete
... sometimes as fast as cars... with minimal protection... is truly a
Zen
experience. Our consciousness opens up... time slows down and our perceptions become acutely aware of our surroundings despite the intensity of the experience. That is where I see the most evolution of our
human
potential. It is in our minds... the belief... that we can push ourselves beyond the limits. We can push our potential beyond anything ever thought possible. For the most part... the only limits on human potential are those we place upon ourselves.
So that said... know your limits and push them slowly. Build your knowledge, flexibility (
Yoga
is highly recommended), stamina, courage... and balls... (or whatever the female equivalent would be if you are female)... and rush it!!! Feel the exhilarating flow of adrenaline as you blur the borders between
God
and man... becoming one with your surroundings. Enjoy the season my friends. Happy shredding. May we give thanks for all of those perfect rides that bring us all such joy... and a reason to live with passionate intensity.